B-G Racing Low Rise Wide Ramps
Written by
Brown Geeson
on . Posted in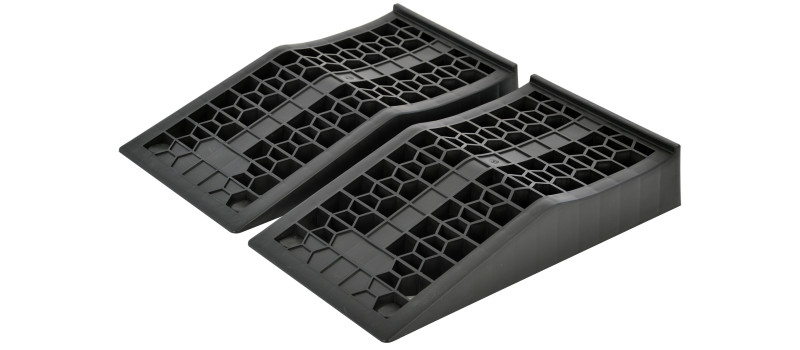 The B-G Racing Low Rise Wide Ramps are an ideal solution to lift your car upward from the ground to improve trolley jack access under the front cross member, or side sill.
Featuring a 250mm (10") width pad, these Low Rise Wide Ramps are ideal for race cars or sports cars with wider profile tyres, as the platform evenly supports the tyre, and the gentle 17° incline elevates the car an additional 65mm off the ground allowing for easier and safer access for trolley jacks to the underside of such vehicles.

The underside of the Low Rise Wide Ramp is pre-installed with rubber grip pads to prevent the ramps from moving across the ground when being driven on to, and the curved platform reduces pressure points on the tyre, which can allow longer term storage on these ramps.

The Low Rise Wide Ramps are produced from a durable black Polypropylene (PP) with a strong honeycomb channel construction and have a combined weight loading capacity of 5000kg as a pair.

The Low Rise Wide Ramps are sold in pairs.